When I was a kid, December took FOREVER! That Advent Calendar in the kitchen was such a tease! As an "adult" I find that the lead up to the holidays always blows by at total warp speed ahead. "Like, yeah, next year, I'm totally going to make rad holiday cards!" I intend to not (but always do) wait to the last minute, and make gifts the day before or the day of giving it to the recipient. This past December was the same deal as previous high-speed seasons, but I feel ok with that because we did a bunch of cool stuff. Here is a re-cap.
We played a show in Miami during Art Basel through PS1 and Dublab, and organised by Generators-Miami. The town is already odd enough, but replace all the locals with really loaded (and I don't just mean financially) art people, and pack a barrier island (during the tail end of the Atlantic hurricane season) with hundreds of millions of dollars of cocaine and contemporary art, and well..... you can imagine. Actually unless you have been there, you probably can't. Our show was super fun, and the trip became double rad when we teamed up with Ethan, Katerina and Busy, who turned out to be staying really close by to our hotel. We were also surprised how easy it was to bump into friends while just milling around. However the day of our show, I was in one of my non-digi moods because of being in nervous show mode. The next day, we were more intent on some beach time, than the idea of braving the art traffic jam. When the evening hit, we decided to check out some party-time. We found ourselves hanging around super expensive hotel lobbies with wet bathing suits, and sand in our hair, feeling silly around women and men in outfits that might've cost more than all of our band equipment combined. We then ventured over to this crazy Copa Cabana-like night club to see Car Clutch, Soiled Mattress & the Springs and Gang Gang Dance totally anihilate an unsuspecting open-bar-seeking crowd. I also got to finally see White Williams, who played a nice, more party friendly set.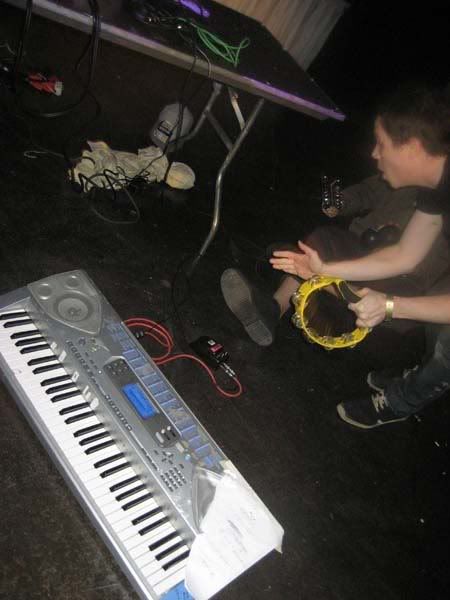 Car Clutch-ageddon! The most intense IDM duo ever!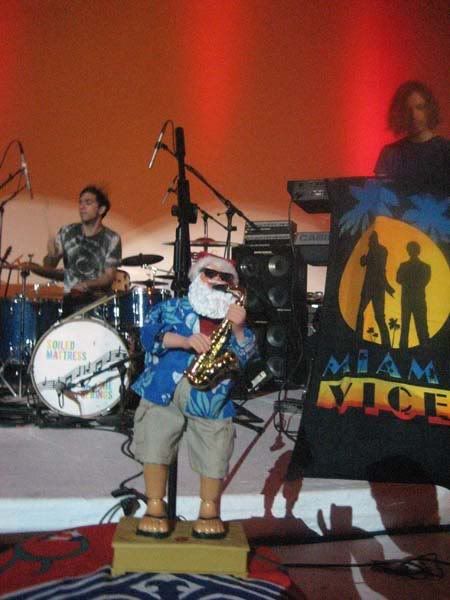 Apparently the stock price for beachwear/souvenir mega-chain Wings, and South Of The Border skyrocketed when Soiled Mattress and the Springs rolled though.
Then we flew back and immediately went (well, we stopped home and cuddled the cats for an hour) straight to Philadelphia and met our NE mini-tour-mates Lucky Dragons and Hawnay Troof at the excellent Space 1026, where we played a super fun show, followed by a vegi dim sum-ageddon. Thanks to Andrew for having us!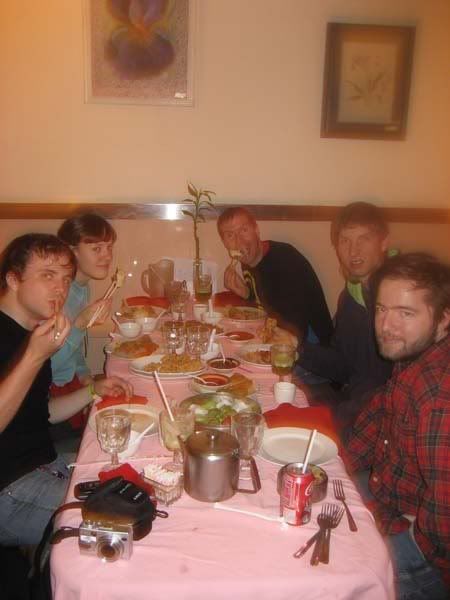 Andrew Jeffery Wright, HT, LD & pal, HP eating WAY too much at Kingdom of Vegetarian, Philadelphia.
Then, on to Floristree in Baltimore, for an amazing Weedsnake dinner prepared by Jason of Wzt Hearts, and a rad show with the fantastic Thank You.
Our Wildfire hosts Devon and Matt, and our cook, Jason.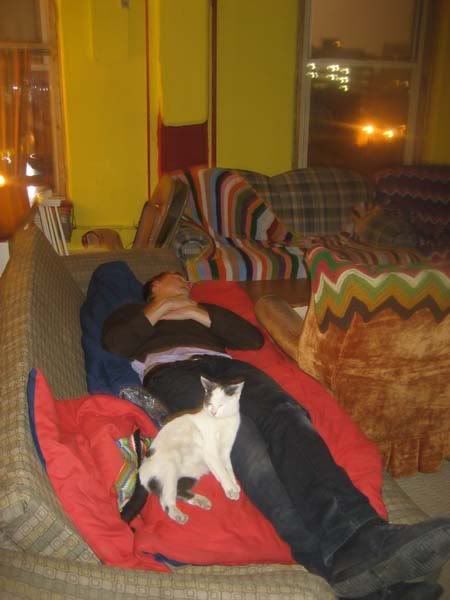 Luke snoozing with the very pregnant Weekend. Luke was not responsible, fyi.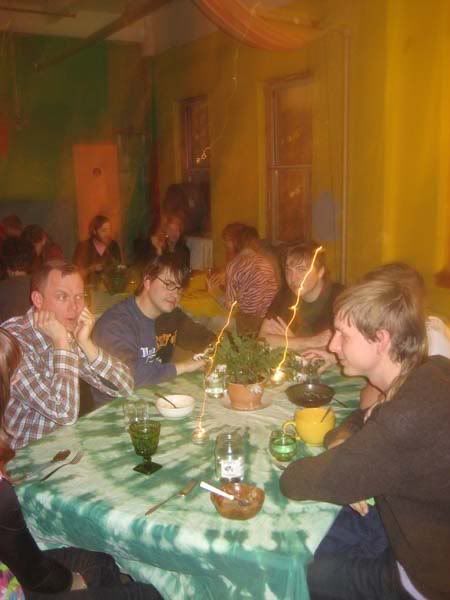 HT, HP, LD and Matmos getting ready to eat the heck out of Jason's grub.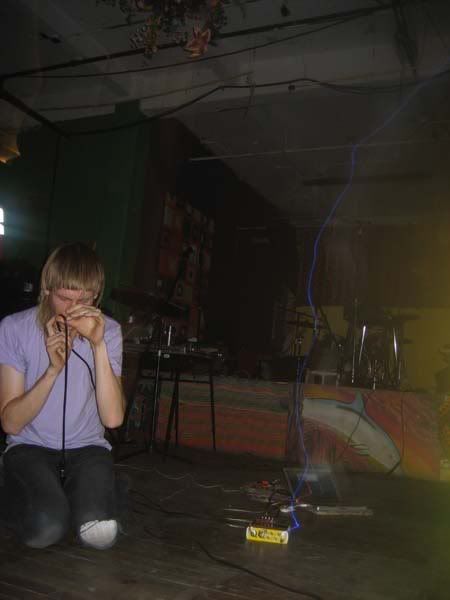 The obligatory Lucky-Dragons-live-photo-in-a-High-Places-photo-blog. Let's face it, the dude is photogenic!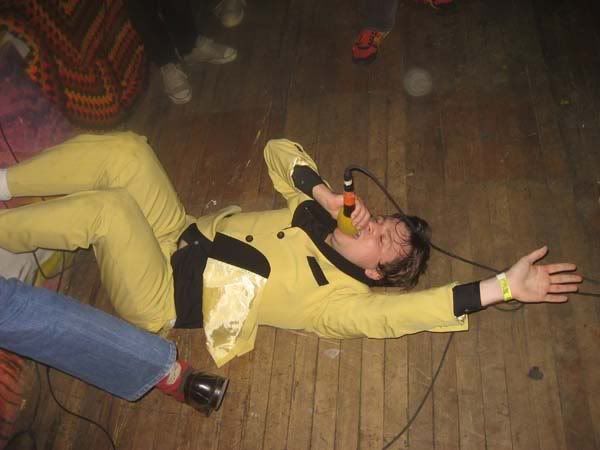 Come to think of it, Hawnay Troof is super photogenic as well!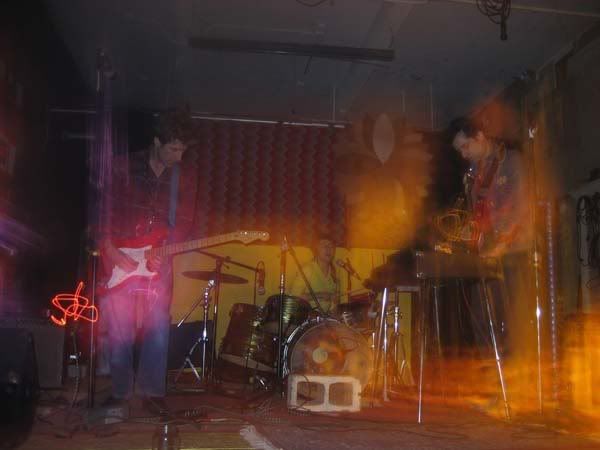 See Thank You NOW! Buy their records NOW!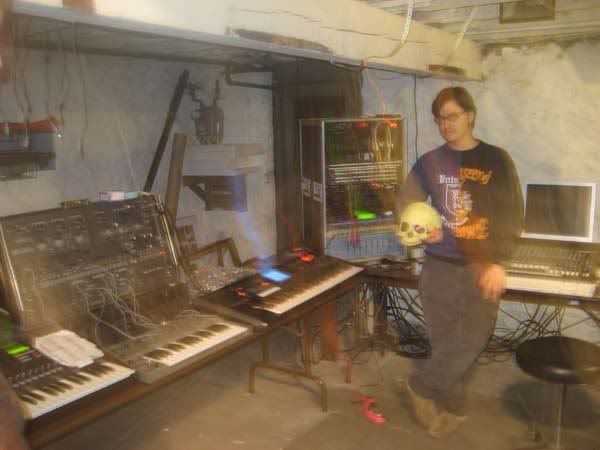 We stayed with the newly relocated to Baltimore Martin and Drew of Matmos, where we came home to yummy vegan cream of broccoli soup made earlier that day by Martin. Like I have said in previous tour blogs, we are so fortunate to be taken in by such nice and hospitable locals when we tour. Thanks! This is where the genius that is Matmos happens. It looked exactly like my grandmother's basement, but if my grandfather was Bob Moog or Raymond Scott.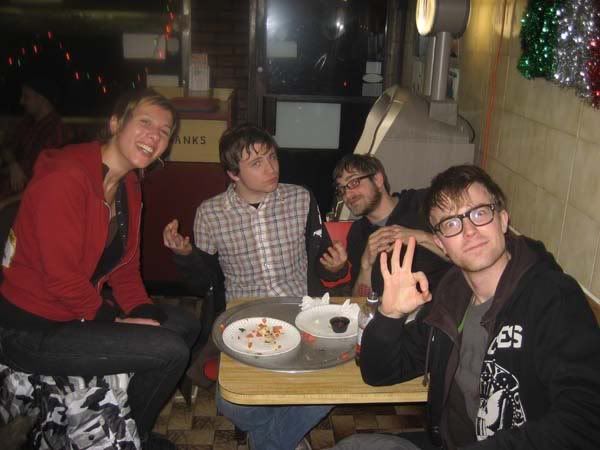 We played a GREAT and fun show back in Brooklyn, with the rad Vivian Girls, then VC had no choice but to sample an awesome vegan pizza from Vinnie's on N. 9th and Bedford. I ate too many of the Vegan Treat donuts and got a tummy ache. But a blissed out tummy ache none-the-less! Also in attendance was Kim, Ryan and Matt (who's rocking the best sweatshirt ever).
Till next time!